Malcolm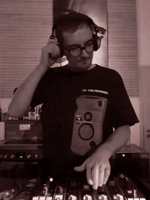 Since more than two decades, DJ Malcolm has collected the nectar of electronic music. Therefor he likes it fresh and nutritious as for example the current Dubstep, Grime and UK Funky releases from Great Britain. In addition, Malcolm is one of the last active dj of the early Leipzig clubscene. In those days he performed on many events and a bunch of long forgotten locations. Whether thrilling acid baselines at Deelight rave or rooty Chigago House flair at Distillery basement he has always enthused the audience with his selections and his technical finesse at controllers and faders.
Moreover DJ Malcolm has aroused the Jungle and Happy Hardcore fever in Leipzig dancehalls. At the Conne Island he supported the first international Jungle acts as M-Beat, General Levy and Shy FX as local resident three times in succession and deserving quite rightly the title to be one of the pionears of Leipzig`s local Jungle and Drum`n`Bass scene.
But Malcolm would be not himself if he doesn`t scrutinise current developments and hypes and presents a sound to his audience which is more complex and not only straight forward. In 2000 he discovered himself more and more Hip Hop sound guided by the UK, US and France independent scene. The chance to get involved in the first online broadcast station of Leipzig he snatched immediately and created with Downtownlyrics not only his first emission but also his own crew with DJ Full Contact and MC Ramo on the mic. These days DJ Malcolm plays sometimes individually sometimes with his crew at various places all over the town. Even he`s regulary on air. Every 2 months radio waves stream out of Radio Blau and spread fresh sometimes a bit bizarre music within the walls of the city.